Why Disney Cruises?
Click Here to Open the Disney Cruise Line Brochure and 2015/6 Itineraries
Let's be honest, Disney Cruises are pricey. Yes, they are wonderful, magical for kids of all ages and you can expect nothing less than a fantastic vacation. Still, on average, they do cost a bit more than other family cruises. Besides all of the features you'll only find on a Disney Cruise, you are paying for the Disney name and brand of hospitality. The good news is Disney does offer lots of options for booking a cruise in an attempt to make it more affordable.

There are TONS of pricing variables when it comes to booking a Disney cruise...date of sailing, number of nights at sea, ports of call, type of cabin etc. As a general "ball park" average price for a week at sea with Disney, parents can expect to pay just around $1000 per person. That's about $125 to $150 per person/per night night at sea. To confirm advance reservations on a Disney Cruise, you will need to book early. So a family of 4 sailing at that average price of $1000 per person would be $4000. Final payment for your cruise is due 75-90 days prior to sailing.

Still, a Disney Cruise tops the list of many a family's vacation dream. So how do you make this happen for your kids without breaking the bank? Call us for a few tips that will help you to save a boatload on your Disney Cruise....
BOOK EARLY! - Disney Cruise Lines will publish their rates, schedules and allow reservations about 2 years in advance. Price will only go up from here and taking advantage of this tip can save you some serious coin.
Book Early AND get Last Minute Discounts! - The best of both worlds - Right? That's what you get when you book a Disney Cruise with us. Our agents monitor any sales offered by Disney Cruise Line, even after you have made your initial deposit. If Disney offers a cheaper last minute price on your cruise, our agents will call and have the lower price applied to your reservation.
Shipboard Credits - Disney does not allow any cruise agency to discount the price of their cruises. If you see this advertised anywhere online, run quickly in the opposite direction. Disney does allow companies to offer "shipboard credits". Shipboard credit is money that is placed into your ship account that your family can use towards things you'd like to do during your cruise...spa treatments, souvenirs, specialty dining etc. When you book with us here our clients all receive shipboard credits based on the total price of your cruise.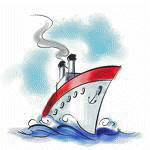 @ CruiseQuotes
We sell cruises aboard each of the world's top 18 fleets. That's over 150 ships and more than 7,600 sailings.
Achievements
CruiseQuotes is one of the top companies worldwide. CruiseQuotes has been seen on MSNBC, Fox.com, and Examiner.com as well as being nominated for the Inc. 5000 designation. They have become one of the most trusted companies and they have earned the consumers trust in providing excellent service.